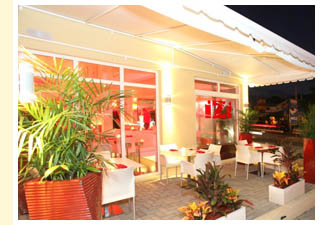 IZI Ristorante Italiano™ is an all-new class of restaurant. We show you our ultra-fresh ingredients, and you tell us what you want. Choose an appetizer, a salad, some bruschetta (we have three types), some soup. It's IZI!
Then it's main course time. Pick from 12 ultra-fresh pastas (many made right here), pick from our versions of nine classical sauces (five reds, four whites, four blues . . . yes, blues, and of course pinks -- where would the world be without pink?)
Or choose our renowned home-made lasagna. Decisions, decisions! Three types of lasagna, each more luscious than the other. Which is best? Try them all and decide for yourself!
Or pick a protein . . . chicken, beef, salmon, Mahi-Mahi, jumbo shrimp, add one of six sauces, then pick one (or more) of eight sides.
Can't make up your mind? Decide while you sip wine and much on bruschetta. There's no rush: it's IZI!