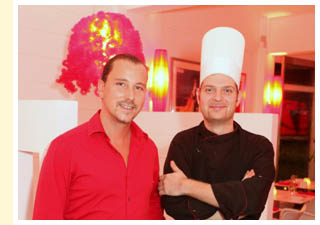 For years, Italian-born SXM restaurateur Davide Foini mesmerized the many who visited his world-famous La Gondola Ristorante in Cupecoy Beach, St. Maarten.
IZI is totally different. Totally hip. Totally cool. But since it represents the same total focus on culinary excellence, IZI is an "IZI" choice. Small wonder that since its late 2009 launch, IZI has become a huge favorite for everyone who wants to let their hair down . . . have good times with friends, old and new . . . and enjoy nearly endless choices from a marvelously creative, truly Italian kitchen.
Our head chef is none other than Marco Ferrante, the same Marco Ferrante who spent years at La Gondola. Now he is the creative force in the kitchen, concocting great dinners for you to enjoy every day (except Tuesdays during low season).

Come in. It's so IZI!