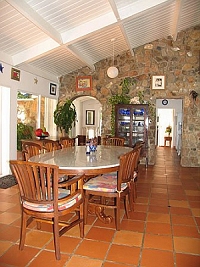 Tour The Villa
The Master Bedroom occupies its own section of the villa, enabling complete privacy. Sit in our Air-Chair on your private porch and enjoy those early morning or late afternoon ocean breezes!
The luxuriously equipped bathroom has double sinks, a shower, and a large bathtub -- and its own spectacular view of Guana Bay Beach just a few minutes walk away. A cedar paneled walk-in closet lets you bring everything on vacation - with lots of room to spare!
Visit our Photo Gallery and take a visual tour of Villa Bleu se Mer.
Our Blue, Green and Red Rooms are located in the other end of the villa along with their bathrooms. All are nicely furnished and face the ocean. A separate patio area adjoining the three bedrooms gives you space for relaxation, drinks, or whatever else strikes your fancy.
A snugly guest cottage adjacent to the villa accommodates our fifth bedroom. The cottage has its own bath and even a small loft, making it a perfect place for a nanny.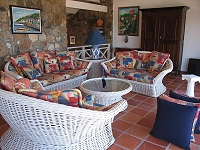 For those of you who must do a little work on vacation or who just need to stay in close contact with the real world, our study is the answer. A high-speed internet connection and a complete mini office (telephone, fax, printer, copier and scanner) makes work a snap.
For readers, a quiet reading nook is provided.
The den opens out onto a spacious pool deck with teak furniture. Gentle breezes greet you as you step out and are consumed by the spectacular views of the ocean, Guana Bay Beach, and the neighboring island of St. Barths some 20 miles distant.
Prefer to have dinner outside or to entertain on the pool deck? No problem, Mon! A gazebo covers our swim-up bar, and a large patio table can accommodate up to eight diners Ė or drinkers! A BBQ grill is handy as well. Stoke up the coals and dinner is served!
The grounds around Villa Bleu de Mer are nicely landscaped and are a showcase for Caribbean shrubs and flowers.
Maid service is provided five days a week, and a stand-by generator, with automatic switchover, is on duty seven days a week.
A large cistern provides a back-up water supply, ensuring that relaxing showers, warmed by solar heaters, are always possible.
Guana Bay, and in particular the beach, is a great place for an early morning or late afternoon stroll or meditation. Or, just spend the entire day on our pool deck!
Villa Bleu de Merís location is only minutes from Phillipsburg where shopping is at its best. The Boardwalk in Phillipsburg is a great place for nighttime entertainment and a wide choice of dining experiences.