Villa Bleu de Mer,
Guana Bay, Sint Maarten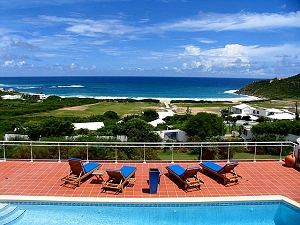 The moment you crest Guana Bay Hill and begin your descent into the private community of Guana Bay, you are enveloped by calm and serenity just as you are caressed by warm, gentle trade winds.

Welcome to Villa Bleu de Mer, Guana Bay, St. Maarten, where your luxury vacation has now begun.

Situated within approximately two acres of lush tropical vegetation, Villa Bleu de Mer is set into the gently sloping Guana Bay hillside directly overlooking the tropical Atlantic. Close the remote controlled gate behind you and head up our driveway, and your spectacular views begin, and they stay with you throughout your vacation.

The entryway leading to our outdoor patio dining area is surrounded by tropical plants and allows for private open-air dining.

Inside, a spacious formal dining room awaits, elegantly appointed with a large mahogany, marble-topped dining table, conveniently located near our fully equipped gourmet kitchen. Entertaining is a pleasure, whether you're hosting a dinner party with good friends or prefer a candlelight repast with just one other very special person.

The views are spectacular from our upstairs living room, where wide, sliding glass doors, open up to some of the most breathtaking views you will enjoy in all the Caribbean.

Staying in any of Villa Bleu de Mer's five bedrooms is your guarantee of an enjoyable St. Maarten vacation. All our lavishly appointed bedrooms are air-conditioned, and they offer two queen-size and three king-size beds. So, there's more than enough room for everyone in your party. Mosquito netting adds to each bedroom's romantic coziness.