See our updated menu!

Page updated September 16, 2010
Ran Zan:
A Pearl At Blackstone Boulevard
Incredible Japanese delicacies await you at Providence, Rhode Island's finest authentic Japanese restaurant....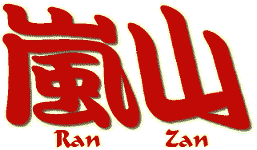 Though Japanese restaurants are plentiful today, few offer unique, classic tastes which approach the culinary delights we offer you at Ran Zan (pronounced "Ron Zon.")
Named after a country village in Japan, Ran Zan brings to New England the authentic tastes of Japan, from scrupulously fresh sushi and sashimi to light tempura specialties, teriyaki, Japanese noodle soups, and Yakisoba – stir-fried Japanese noodles offered with a spectrum of delicious accompaniments.
At Ran Zan, we pamper you with traditional Japanese hospitality while you enjoy our extraordinary food. Whether you've experienced Japanese cuisine in Boston or Providence Japanese restaurants, at Ran Zan we offer you the pearl of Japanese dining. Ran Zan Japanese Restaurant is conveniently located in Providence at the junction of Blackstone Boulevard and Hope Street, near the Pawtucket line, under our famous green awning. We're just a short drive away from Brown University.
Check the menu for pictures of Japanese food that awaits you at Ran Zan!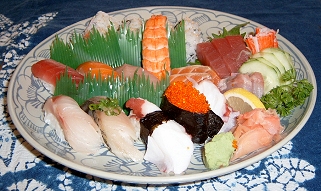 Ran Zan's delicious chilled sushi & sashimi dinner. See the review of Ran Zan in the Providence Phoenix.